The school opened its new building on 15 December 1926 in a ceremony which was reported in The Scotsman the next day.  The report notes it is built of brick, harled with a special white finish and facings of concrete.  12 classrooms accommodated 600 pupils.

Historic Environment Scotland did some preparatory work to consider giving the building listed building status.  A draft report has been released under a Freedom of Information request, subject to the rights of the copyright holders.
"ST JOHN'S PRIMARY SCHOOL INCLUDING BOUNDARY WALLS, GATE PIERS AND GATES
G Reid and J Smith Forbes, 1924. 2-storey, 20-bay, E-plan, Symmetrical, Classical revival primary school with advanced central 6 bays and pavilion end bays with steeply pitched roofs and boys and girls entrances. Rectangular-plan pitched roof gymnasium hall adjoining to rear. Render with stone effect pre-cast concrete window dressings. Deep base course; first floor cill course; corniced parapet eaves course.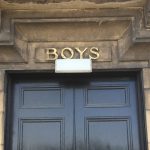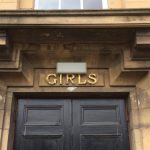 Ornate octagonal copper domed central ridge ventilator with weathervane. Advanced central 6 bay section with raised outer margins and string course; raised blocking course with flanking urns. Round- arched openings to end pavilions.
Predominantly 12-pane timber sash and case windows. 6-panel double-leaf timber entrance doors. Grey slate roof; rendered stacks. Cast-iron rainwater goods.
INTERIOR: good contemporary interior decorative scheme to original floor plan with long corridors and classrooms off. Full height folding panelled timber-glazed screen dividing two classrooms; timber panelling to dado height with built-in framed blackboards; timber and half-glazed panelled doors. Tall timber chimneypieces with integral over-mantels to offices. Wide curved stairs; cast-iron railings with circular motif, timber handrails. Metal pole and mesh coat peg system to cloakroom areas.
BOUNDARY WALLS, GATE PIERS AND GATES: low, pre-cast concrete block walls, with tall square gate piers and cast-iron railings. Ornate monogrammed main gates.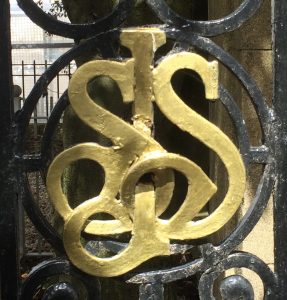 REFERENCES:
3rd Revision Ordnance Survey Map (1931-2).
Dictionary of Scottish Architects,
Gifford, McWilliam, Walker, Buildings of Scotland, Edinburgh, 1984 (p557).
NOTES: St John's Primary School is a good example of a school building of its period and has a strong presence with a prominent Classical façade and interesting E-plan form. The building was well designed for its purpose and has some good interior detailing surviving in its original condition, particularly the curved open plan stairwells and woodwork.
The practice of Reid and Forbes specialised in school work and were prolific; St John's is one of their earliest works. The Royal High Primary School on Northfield Broadway is a later and more extensive school listed at category B.  Reid worked for Scott Morton & Co for five years early in his career, the timber work in this and many of their schools is of a high quality as a result.
The school is one of the inter-war schools built by Edinburgh Education Authority. It shows elements of the contemporary theories of school design; a need to produce schools that were both aesthetically pleasing and healthy environments for the children. A clever design detail of stepped flat roof corridors to rear elevation allows the use of high level windows directly into the interior sides of the classrooms thereby allowing maximum light and cross ventilation.
2-storey, 2-bay, former caretaker's house to south-west built in complementary style and materials, now under separate ownership."
The school celebrated its centenary in 1987; one result was this history by Christine Burns.
St John's School Centenary 1887-1987 booklet Christine Burns