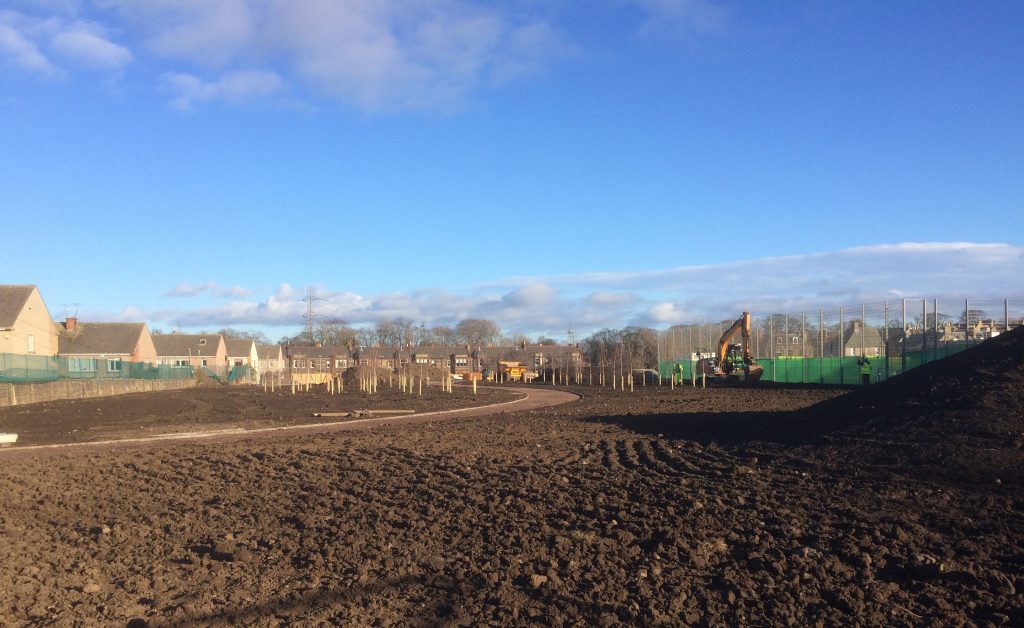 For most of 2019 so far, work has been in preparation, assembling the ingredients to build the park, and setting them out ready for artistry and engineering. Many people have thought this simple: flat site, paths, trees, job done. But until the demolitions were complete it was not possible to assess fully the state of the ground across the site, covered for many decades in buildings or tarmac. Immediately, one thing was obvious – the strange smell of gas from the stagnant nature of the ground. Now the buildings have been ground into hard core, the topsoil retained in one corner, and surplus material removed. The aerating worms should be wandering in.
Currently, the main emphasis is on digging the huge drainage system. The site is completely covered in deep, red clay – hence the Figgate Pond and Portobello pottery and brickmaking. The plans approved in early 2018 provide for long ditches along the two lower level sides, to collect water that hasn't drained into the ground. This week a huge trench has been dug, like some 18th century canal – which will store the water from a once in 200 year storm, holding it back from flooding the area and allowing it to drain down naturally.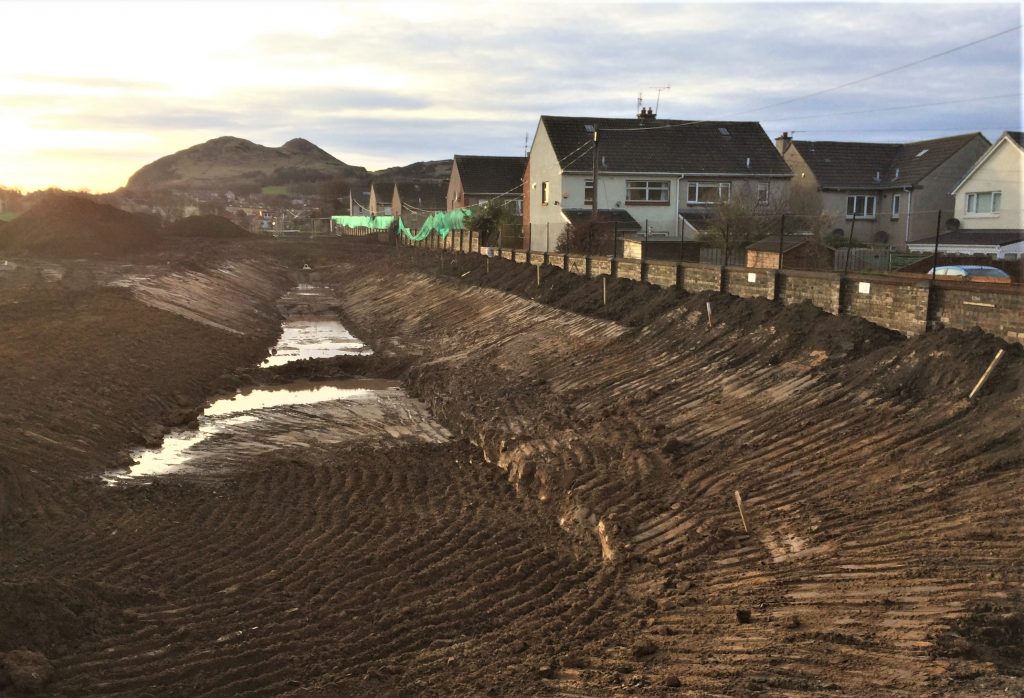 The Sustainable Urban Drainage System (SUDS) is now a common sight on building sites across the city – surface water is no longer collected by the main drains. It is new but not novel.
Meanwhile, a rumour ran that the Council had resiled from an agreement to build a major installation for advanced skateboard users. The story was that the cost of the drainage works had exceeded the budget and the funds for the skate area were going to take the hit. This led to an on-line petition demanding a return to what had been promised. No public document about this promise has emerged but the Council did declare on 11 February:
"We are going to provide a wheeled area/skatepark in line with the planning permission for the park and the area it covers will not be reduced from original proposals.
"The area will not be a large scale destination skatepark only suitable for older children and others on skateboards.  The largest part of the facility will be an area with some small scale humps and bumps suitable for all ages of children who are able to cycle, scoot, roller skate etc.  We will also provide some elements in one corner of the facility (e.g. ramps and rails) which are more suitable for skateboarding.  
This is absolutely in line with what was proposed and requested during the planning process. "
Clearly, the drainage should take priority as it would be difficult to install that later, whereas the shape of the park facilities will change over its life as tastes change. It looks good so far.