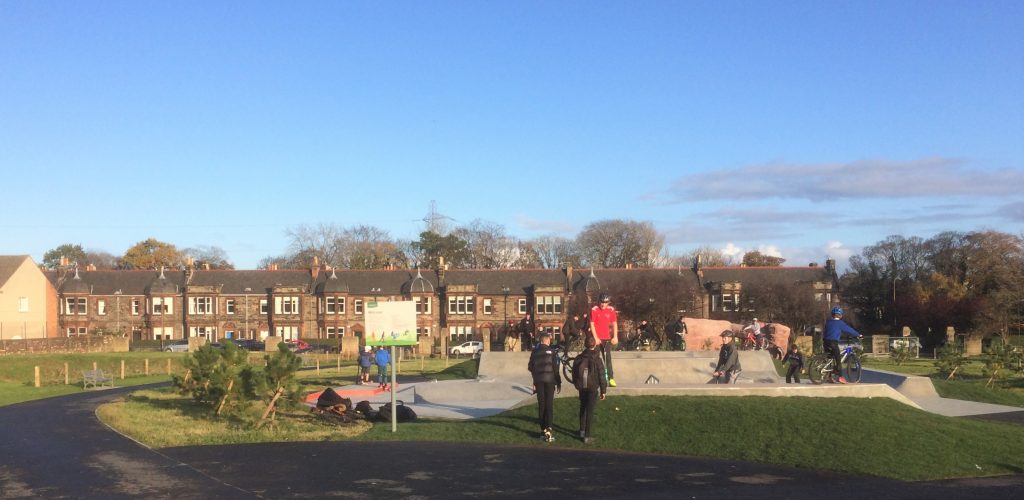 We knew it was happening; on Thursday 7 November, the refrigerator was taken out of the workers cabin, leaving the microwave and the kettle. ROSPA had been in on Monday doing the final safety inspection. Turn your back and a crane had nipped in and taken the whole cabin. Nothing left. Then a couple of men started removing the security fence. At 12.30, a question, "Is it open?" . "Yes" and that was it.
At 3pm we sauntered in to a park empty except for a grandmother and buggy who had no idea that she might be the first – imagine. Still silent, then a trickle of children flowed down the hill getting more excited as they saw the massive rocks, the swoopy curves of the skate park and the intricacies of the globe rope climbing frame. One child was rushed home to do her homework (aged 5) and was back out like a shot, climbing, running, screaming, enjoying. After that the tidal flow continued to sunset. A couple of hours later a torch bobbed through – man with headlight walking his dog. Normality had been established.
Day 2
Just after dawn, about 7.15, the bikes, boards, wheels resumed followed by a lull while some education was done; then midday it was real beehive – constant movement, a buzz, a smile or two. Kids under 5 lifted to the top of Stonehenge followed by parents. Not noisy, but concentrated on the new skills being practised, bikes going in order round the skate course. A few over-keen descended into the SUDS pond, we hope never to repeat the muddy experience.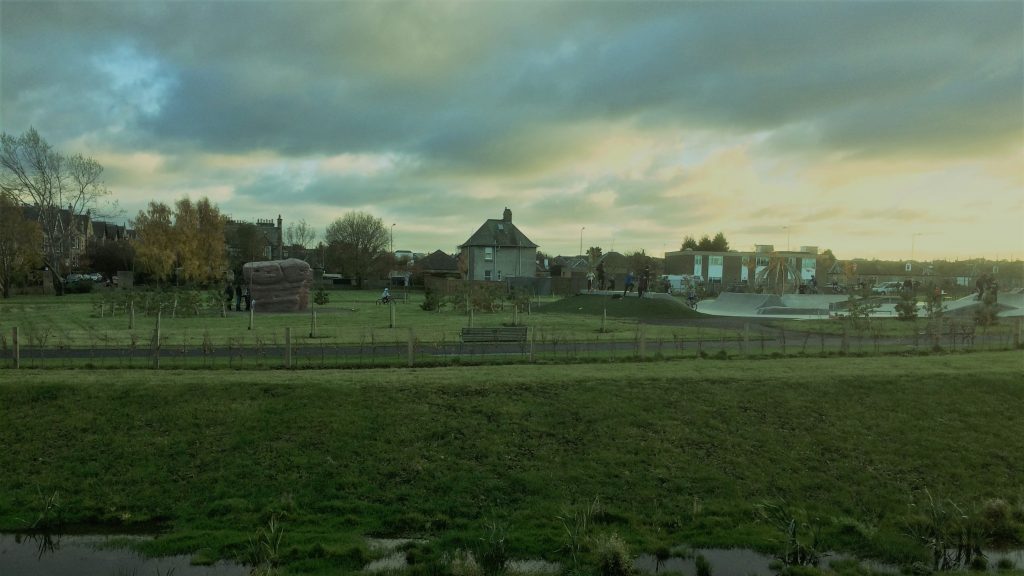 The Treverlen Park has been handed over to the Parks department and we have yet to hear what they will make of it. We know that for some time yet there will be a mild hysteria of exploration and invention. Kids will do unexpected things, get into scrapes, fall, hurt, cry – but that's what we did too, surely? And sedate saunters in the sun for the rest.